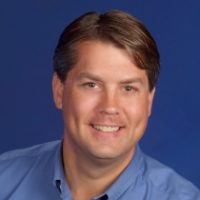 Bret Achtenhagen
Owner, Bret Achtenhagen's Seasonal Services
A Man for All Seasons – Literally
While I'd love to take credit for transforming someone into an All-star Brand Spokesperson, Bret Achtenhagen already brings a lot to the table on his own.
Bret's bright smile, enthusiasm, and passion for beautiful landscapes just come naturally! Founding Seasonal Services nearly 25 years ago in 1994, Bret loves his business. He cares for his customers. Most importantly, he listens and responds to their outdoor goals and dreams. From designing and installing a magnificent lighted brick patio – with a stone-fire pizza oven – to adding an inviting water feature or irrigation systems, to maintaining a finely-trimmed, weed-free lawn, Bret and his crews strive for perfection in everything.
Still, Bret was quick to embrace the fact that too much perfection in the studio can work against a marketing message. Specifically, when reading a commercial script, the goal is less about sounding "accurate" and more about sounding "real." In fact, too much diction (reading-each-word-with-absolute-precision) sounds… well… like reading! Sadly, it can cause a disconnect with the person hearing it. Bret knows that the best commercials – the most successful commercials – will be the ones that connect with listeners. Sharing a laugh, a tear, a frustration, hope, or fear – it all has to come from the heart. The saying couldn't be truer: People don't care how much you know until they know how much you care. They have to feel it. A little bit of coaching really can make the difference.
What about you? Is Spokesperson Stagefright getting in the way of being the best voice for your brand? Nobody knows your business better than you. Telling the story yourself has a profound impact on your customers – much more so than a hired voice who will say nice things about dozens of other businesses. Sure, you may not have a "radio voice," but know this: Your credibility instantly leapfrogs over the hired voice every time by just sounding real, speaking from the heart, and letting them know how much their lives will be better tomorrow because YOU told them about it today.
By just being you – the best YOU that you can be, you'll build up a longterm bond with customers – who'll go on to serve as your word-of-mouth spokespersons.
Ready to be "you?" Take the next step. Click on the Contact link and find out how a little gentle coaching will help you connect better with your customers. Better still, coaching can be done at your work site as part of a commercial recording session with our Anywhere Recording Studio. While you're at it, copy and paste your most recent script and let see just how much stronger your message can be.
Make it a Memorable day!
Jim